WLAN for your event location
For guest access & digital services
Industry-standard event WLAN for many simultaneous users
expandable at any time – also per event
Remote administration
Online portal for monitoring and customization
With branding and marketing options for brands
Request free advice now
Robust WiFi in your location
Today, a high-performance WiFi belongs in every event location and is the basis for many digital services such as cashless payment, online tickets, digital signage and much more.
Depending on the concept, however, there are different requirements for the WiFi. A hackathon, for example, requires a different infrastructure than a congress or a music event. Our systems are therefore very easy to expand, so you can easily respond to new requirements.
Prepared for digital event services:
Livestreaming and hybrid events
Guest WiFi
Digital payment
Online ticketing
Digital marketing
Digital signage and much more.
Save costs with remote administration
We administer all WiFi systems remotely. You don't need any expertise or an in-house administrator.
Adaptation of changed requirements
Security updates
Troubleshooting
Implementation of event-specific requests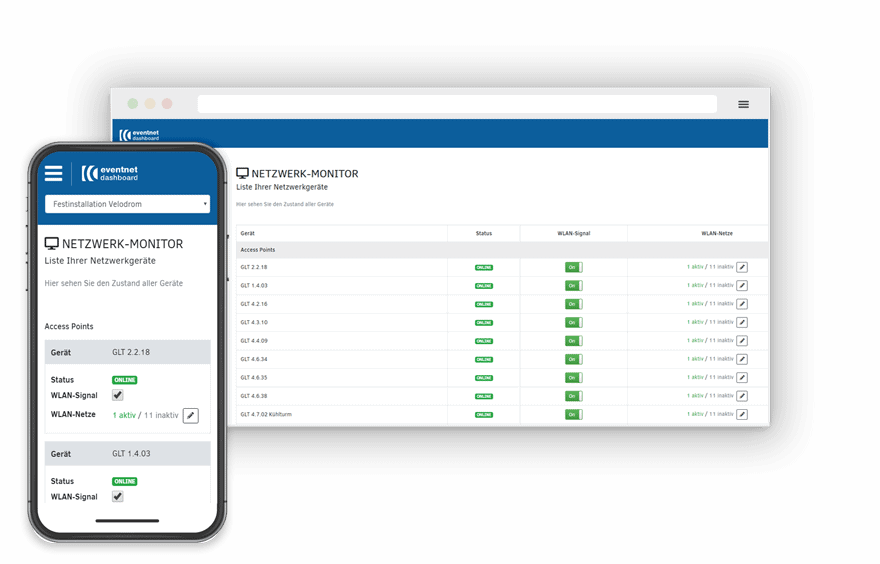 Online management in the browser
Make adjustments such as changing WiFi names or passwords yourself and check the status of your entire network in real time.
Customize WiFi settings
Turn WiFi on or off in individual rooms
Monitor entire network live
Works on all devices (Windows / Android / iPhone)
Customizable branding and marketing
Easily adapt the WiFi in your event location to the respective event. Whether WiFi name, login page for guests or marketing options. Your event WiFi appears in the desired branding design.
Customizable login page for guest WiFi
Social media connection
Email login for connection to email campaigns
Usage statistics
An example of our customers
With our digital infrastructures, we support venues such as the Velodrom and the Max Schmeling Halle in Berlin.
Successful partnership since 2016
Both houses have a capacity of 12,000 guests each
We take over the complete data networking and support
Event-specific supply with event WiFi

And when may we digitize your house?