Festival WiFi for digital event services
Robust and scalable
Festivals have long been organized digitally. Back office, online ticketing, cashless payment and many other services require a reliable online-connection. We provide the temporary data infrastructure with everything that goes with it. The Internet supply can be implemented for the entire site, only for the backstage area or selectively for specific locations on the site (e.g. admission, sales stands, back office).
Internet connection
Network on the festival area
WiFi supply
Set-up, dismantling and support
Request an offer now
Independently online throughout Europe
The Eventnet systems works throughout Europe and independent of local conditions. No matter where your festival takes place – we can provide stable WiFi coverage even at unusual or remote locations.
One WiFi for all cases
We plan your festival WiFi based on what you intend to do with it. Should the WiFi only be used internally, do you want to supply individual spots (e.g. sales stands) or should a festival-wide guest WiFi be offered? We listen to your story and develop the appropriate concept for it
Payment, streaming, marketing and more
WiFi is the basis for many digital services such as online tickets, cashless payment, internal communication, social media and event marketing. We provide the appropriate infrastructure and also offer digital event services ready for use.
The Eventnet all-round service
Our experienced technicians take care of the setup and dismantling on site and, if required, also oversee the system for the entire duration of the event. Depending on the size of the project, the WiFi system can also be booked without personnel. Our experts can then support the system remotely from the event location.
Example scenario 1: covering individual areas
The coverage of individual areas instead of the entire site is useful if the WiFi is only used selectively
is needed. For example, in the back office, at ticket sales or at the stands of retailers, so that they can use cashless
can offer payment. However, surf islands can also be defined – i.e. limited areas in which
guests can also use the WiFi. The signal is distributed over the site by directional radio.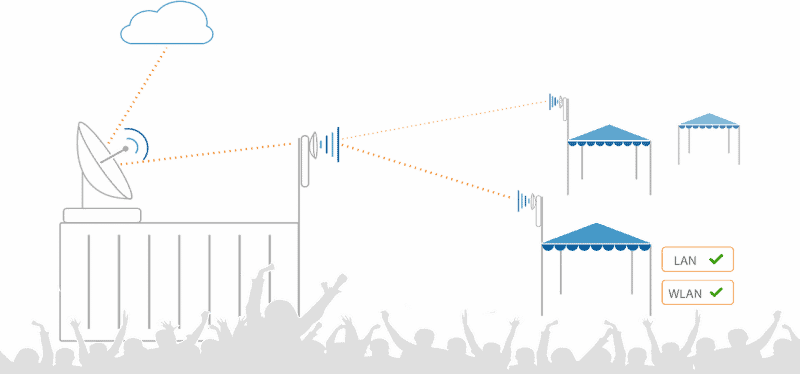 Example scenario 2: Covering the entire site
The illumination of the entire area is ideal if the WiFi is planned as a service for the guests. Especially if advertising is placed via the login page or marketing tools such as collecting guest contacts or competitions are used, greater illumination also increases the success of the advertising measures. In this case, the signal is broadcast with networked industrial access points on the premises.
5 reasons why festivals need a reliable online-connection
1. cashless payment
Especially at events where guests cannot easily withdraw cash, alternative payment options play a major role. At a festival it can quickly happen that cash runs out. If it is then possible to pay with credit card or cell phone at food stands, merchandise and other points of sale, it is of course a huge relief for the guests. Basically, there are two different approaches to make cashless payment possible.
Paying by Visa card or mobile phone
This simply requires a contactless terminal that is linked to your bank account and connected to the WiFi. Of course Eventnet offers such terminals for rent and also sets them up ready for use.
Simple provision which every stand operator can also carry out himself
Guests can pay with their card or cell phone just like in everyday life
WiFi must be available near the point of sale
Pay by prepaid wristband
With this approach guests receive a wristband with a built-in RFID chip (ideally the entrance wristband). Any amount of money is booked onto this chip. This is done either in advance when ordering the ticket or on site. Of course, it is nice if this transaction can also be made without cash.
At the respective sales stand, all you have to do is hold the wristband to a reader and the payment is done.
All incoming money can be monitored centrally and live
The system must be provided by the organizer
For a perfect function WiFi is required at the event
2. digital tickets and guest lists
Most guests nowadays order their tickets online. But also the organization of guest lists and press accreditations is of course handled online in some form or another. Be it event planning tools, Google spreadsheets or a classic Excel file stored somewhere in a cloud storage. At the event itself, of course, one still wants to access this information. Saving everything offline on USB sticks is certainly not an option because shared documents on the Internet are always up-to-date, while the data on a USB stick is simply outdated after a few hours.
The following questions should not even arise on site:
Is the ticket valid?
Where is the latest version of the guest list?
Who else was accredited at short notice?
So, why not simply continue working in shared tools and always up-to-date documents on the site? All you need to do is provide the back office and some important points, such as the entrance, with WiFi at the event. Since this generally does not require a lot of bandwidth and only a small area needs to be supplied, this is often possible on a small budget.
3. internal communication
At events where many visitors are expected, the public mobile network often reaches its limits. For visitors this is at best a digital detox. For the organization, however, it is extremely hindering if communication among each other is disturbed. Radio sets are a practical solution here. However, sufficient equipment must be provided, while every employee is guaranteed to have his or her cell phone in his or her pocket. In addition, unlike with radios, pictures and text can be sent via Messenger and e-mail. If there is event WiFi on the site, all common forms of communication can be used as in everyday life. WiFi coverage at certain points, such as the backstage area or the entrance, can be sufficient. And if the WiFi is only provided internally, the required capacity remains within a manageable range.
4. social media
When it comes to WiFi for events, the question quickly arises whether it makes sense to provide guests with Internet access. To protect the privacy of the celebrating guests, it is often not even desired that photos are taken at the event and posted on the Internet. In reality, of course, the guests do not just let the photos be taken. Therefore, it might be more interesting to guide the social media activities of the guests a little. Funny spots with potential photo motifs where WiFi is also available bundle the interest and enable a quick upload.
This results in several advantages:
WiFi does not have to be offered on the entire event
Guests are more likely to take pictures and post on the WiFi spots than on the dance floor
The exchange with friends via WhatsApp, Instagram, Facebook and Co.
5. happy staff – with WiFi at the event
Finally, it is a nice option for the crew to have WiFi access at the event during the long time from setup to dismantling. We know from our experience that sometimes it can be quite exhausting to be at an event for a week or more. The data volume of the cell phone is sufficient for a few messenger messages and some music via Spotify. But YouTube videos or even Netflix series suck the data volume empty in just a few hours. With event WiFi in the backstage, on the other hand, you can watch a movie or series in the evening or simply surf the Internet with complete peace of mind. WiFi also feels a bit like home.
Request offer for festival WiFi