Internet and wifi for festivals.
In front of and behind the stage.
Festivals have long been organized digitally. Back office, online ticketing, cashless payment and many other services require a reliable Internet connection.
We deliver the Internet and WiFi supply, with everything that goes with it:
Free advice
Internet connection
WiFi supply
Installation, dismantling and support
JETZT UNVERBINDLICH ANFRAGEN
Reliably online throughout Europe
Our Internet solutions work throughout Europe and regardless of local conditions. No matter where your festival takes place – we realize stable Internet coverage even in remote locations and bring your event reliably online.
A WiFI for all cases
We plan WiFi for festivals based on what you intend to do with it. Is the WiFi to be used internally, do you want to supply individual spots (e.g. sales booths) or do you want to offer an area-wide guest WiFi for several thousand users? We listen to your story and develop the right concept for it.
Payment, streaming, marketing and more
Internet coverage at festivals is a prerequisite for many digital services such as online ticket scanning, cashless payments, internal communications and cloud-based software.
We make sure that all services or trades have access and can concentrate on their core task.
The Eventnet allround service
Our technicians take care of the set-up and dismantling on site and, if required, also look after the system for the entire duration of the event. In case of questions or problems, a personal contact person is available for you and the respective trades.
Example scenario 1: Coverage of individual areas
It makes sense to cover individual areas instead of the entire site if the WiFI is only required at certain points. For example, in the back office, at ticket sales, or at merchants' booths so that they can offer cashless payment. Surf islands can also be defined, i.e. limited areas where guests can also use the WiWi. The signal is distributed across the site by directional radio.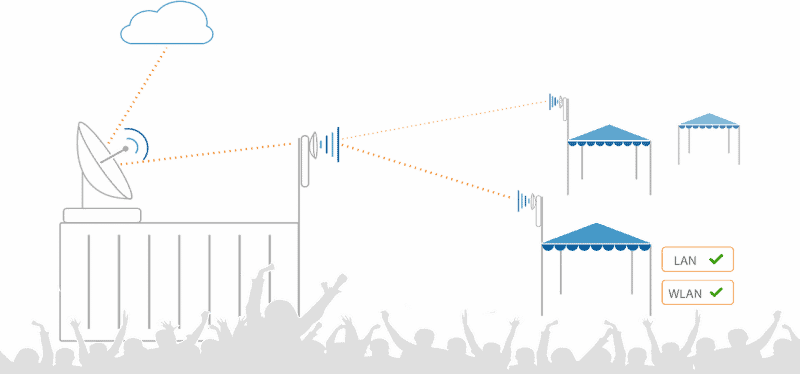 Example scenario 2: Covering the entire site
Illuminating the entire site is a good idea if the WiFi is planned as a service for guests. Particularly if advertising is placed via the login page or marketing tools are used, such as collecting guest contacts or competitions, greater illumination also increases the success of the advertising measures. The signal is broadcast here with networked industry access points on the site.
Request and receive advice without obligation